| | |
| --- | --- |
| | rose ambush |
to encourage, build, strengthen and love
welcome to rose ambush. this is a group of encouragement. it is our goal to find those members that need a little extra lift from God's people to help them get through. it was going to be one day a week, but so everyone can get a chance, we'll will have the time be monday-friday. this is not to embarass anyone, only encourage.
what we will do is select one or two people a week to "ambush". then throughout the week bombard their page with prayer, encouraging words, compliments, etc. there are some wonderful graphics out there; feel free to use them. also i encourage you to write a few sentences to make it more personal.
please send me the names of ppl you come across, whether by reading their profile or their blogs, that you feel God wants us to encourage.
note: if the person has their profile set so only friends can view it, i don't want information passed on to invade their privacy. also, not all of us would be able to leave comments.
lastly, let's advertise this fun group by adding this logo to your comments.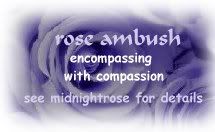 http://i54.photobucket.com/albums/g97/midnightrosefashions/ycsroseambushlogo.jpg
this should show as a link. for those of you who don't know how to put pics in comments, simply put it like this:
[img ]link location[/img](taking that space out).
most of all, let God lead you in what to say and have fun.
midnightrose
ps. here is a icon for you members that would like to put something on your page to remind you to stop by from week to week.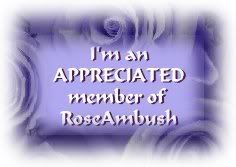 http://i54.photobucket.com/albums/g97/midnightrosefashions/ycsroseambushmember.jpg
check the forum each week to see who the next ppl are to ambush. the dates are in the titles.
| | |
| --- | --- |
| | GROUP MEMBERS ( 85 ) |




| | |
| --- | --- |
| | GROUP GALLERY |
| | |
| --- | --- |
| | GROUP FORUM |
| | | | | |
| --- | --- | --- | --- | --- |
| | TOPICS | REPLIES | VIEWS | LAST REPLY |
| | | | | |
| --- | --- | --- | --- | --- |
| | | 0 | 18 | No Replies |
| | | 0 | 27 | No Replies |
| | | 0 | 39 | No Replies |
| | | 2 | 51 | 03.04.2007 |
| | | 0 | 46 | No Replies |